Since moving to Belgium, I have become somewhat infatuated with the sweet cinnamonny delight that is speculoos! It traditionally comes in biscuit form, as well as an incredibly tasty spread. I made a batch of speculoos while at home in Dublin to give my grandmother and some of the biscuits didn't coming out of the oven looking too aesthetically-pleasing so I crumbled them up and created a granola accompaniment.
Ingredients
4 tbsp coconut oil

1 tbsp butter

1 tsp vanilla extract

pinch salt

4 tbsp date syrup

250g cashew nuts

250g golden linseeds

1 tsp cinnamon

speculoos, crushed

12 medjool dates
Instructions
1
150º for about 40-50 mins
2
Preheat the oven to 150ºC.
3
Place oats in a large mixing bowl.
4
Melt the coconut oil with the butter, add the date syrup, vanilla essence and cinnamon.
5
Roughly chop the cashew nuts and the dates
6
Add the salt and cinnamon to the oats, then pour over the coconut oil mixture and mix thoroughly through the oats, making sure they get a fairly even coating
7
Add chopped cashews, dates and the linseeds to the oats. Leave out the speculoos for now, they don't need to be baked again!
8
Place on a lined baking tray in the oven and check them every ten minutes or so, moving the outermost clusters to the centre of the tray so they don't burn.
9
When they're beginning to turn light brown and the oats have a crispy texture, they're ready to come out of the oven. Learn from my mistakes, and remember that it's easy to over-bake granola! They're likely to take 40-50 minutes.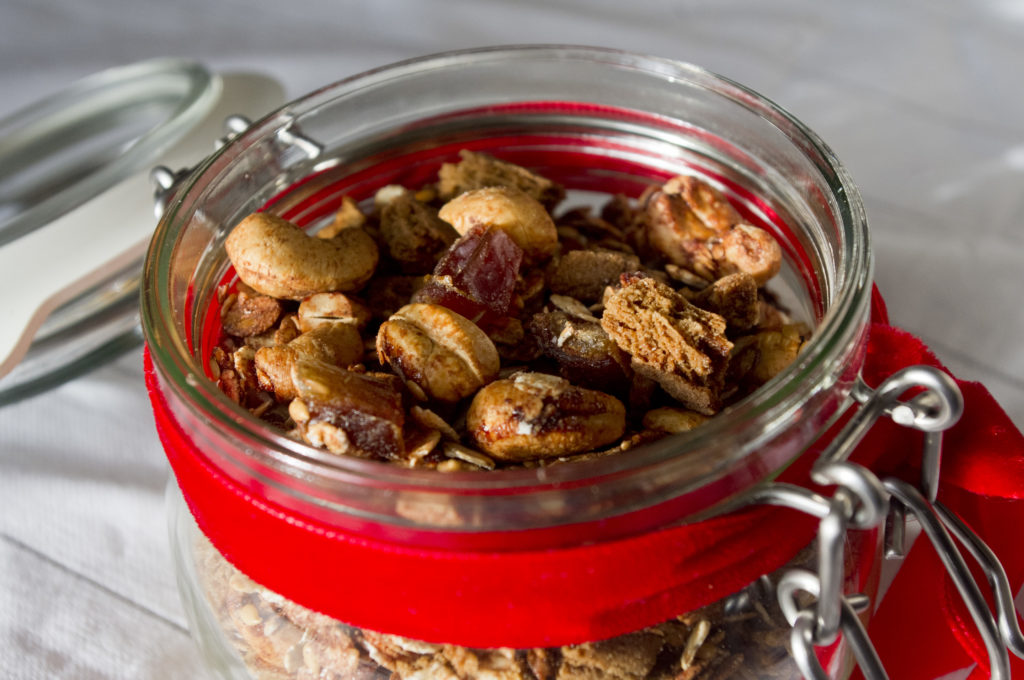 I find when making granola, it's very easy to over-bake. Much harder to under-bake. So when the oats were starting to brown and had a nice crunch to the bite, I took them straight out of the oven. Wasn't getting caught out this time!
This was my first time using medjool dates in baking. They're considerably dearer than the smaller delegate dates and I now understand why. Medjool dates are plump and juicy with a gorgeous smooth texture. I've heard dates described as 'nature's caramel' which seems apt. This is more of a luxury than an everyday granola I would say. It tastes decadent! You'd want to be a fan of cinnamon for this!