Last week I was in the supermarket and some beautiful bright colours caught my eye in the vegetable section. It was rainbow chard. There's a saying that goes 'eat the rainbow' with the idea behind it being that when you eat fruit and veg of different colours, you get a variety of nutrients. Orrrr…you could just eat rainbow chard!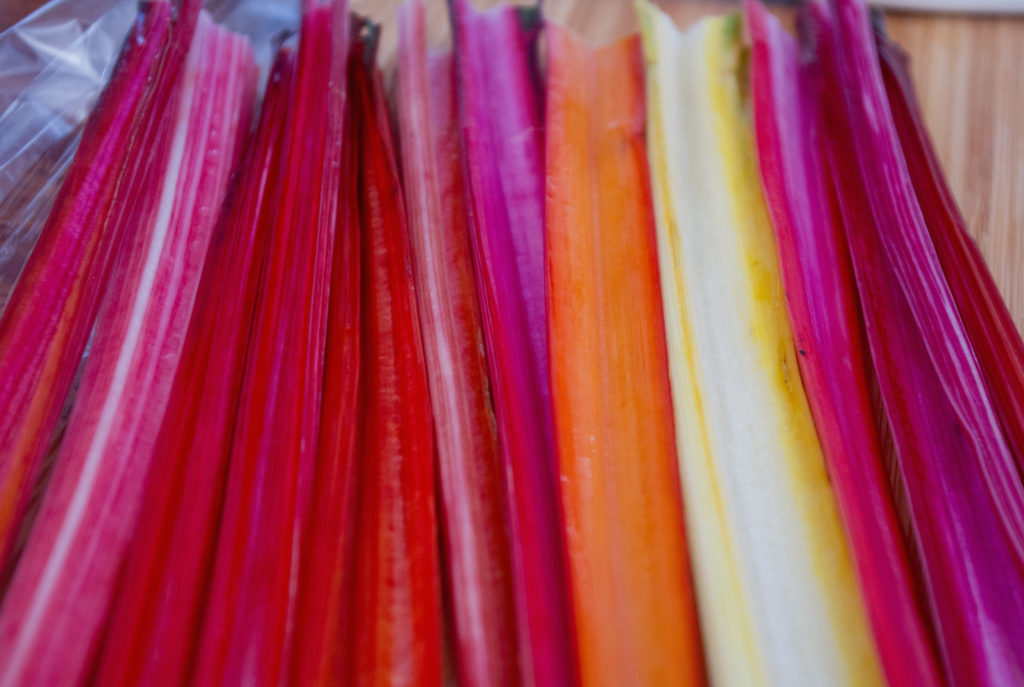 In one serving (one cup chopped) you get 214% Vitamin A of your Daily Value, 53% Vitamin C, 17% Vitamin E, 716% Vitamin K, 22% Iron, 38% Magnesium, 27% potassium and the list goes on, see here. I would imagine the values apply to raw chard and probably change when you cook it.
You can actually eat it raw or cooked, which I didn't realise the first time I cooked with it. I thought it had to be cooked. Anyway, this recipe was a result of that belief, so perhaps it's just as well I thought I needed to cook it!
When I was in Vietnam in March, I ate a lot of tofu and it was cooked in a variety of ways, often with tomatoes. Before my travels I'd only ever have put tofu with vegetables that I would associate with Thai or Japanese cooking. Turns out tofu is waaay more versatile than I gave it credit for and if you can get your hands on a smoked version—do! It's really delicious.
Ingredients
bunch of rainbow chard (about 7 stalks)

2 cloves garlic, thinly sliced

1 shallot, sliced

handful cherry tomatoes, halved

1/2 stock cube (low sodium ideally)

white wine

olive oil

fresh parsley, chopped

1/2 lemon

200g smoked tofu, sliced

black pepper
Instructions
1
Heat olive oil in a pan, cook tofu til brown on both sides then remove from pan.
2
Chop stalks of chard into slices and roughly chop leafy part.
3
Add shallot and chard stalks to pan, followed by cherry tomatoes.
4
Add white wine, stock cube, black pepper cook for 5-10 minutes
5
In another pan, heat olive oil and fry chard leaves with garlic for 2-3 minutes until it's reduced in volume
6
Plate chard leaves, top with sautéed stalks, tofu and chopped parsley. Squeeze lemon over the whole lot if you feel it needs an extra kick.