One of my favourite films is a French-Tunisian one which weaves a fascinating story of life's chaos and the unification that food (in the form of couscous) can bring. It's called La Grain et le Mulet (Couscous is the English title) and I would highly recommend watching it. It's different, it's visceral and it's intense. I could go on and on about how much I love this film but instead I'll give a little context!
Slimane is an Arab immigrant in the port of Sète (Southeast France) who works on a shipyard and at 60 years old, is aging fast. He's divorced with estranged adult children and a second wife (whose dilapidated hotel he rents a room in). He becomes the victim of a changing industry and loses his job. The daughter of his second wife encourages him (even forces, perhaps) to pursue a dream of opening a couscous restaurant on board a ship at the port. The odds are very much against an immigrant manual laborer opening a restaurant in a high sought-after location and an engaging story unfolds. It's a rather long watch but utterly fascinating! If you don't believe my word, you can see what The Guardian said about Couscous here.
There's one particular scene of a busy Sunday family meal. The way its shot struck me as incredibly true-to-life, in that the messy parts are left in, rather than edited out. We see people talking and laughing with food in their mouths, making a mess while enjoying their couscous. It made it tangible for me.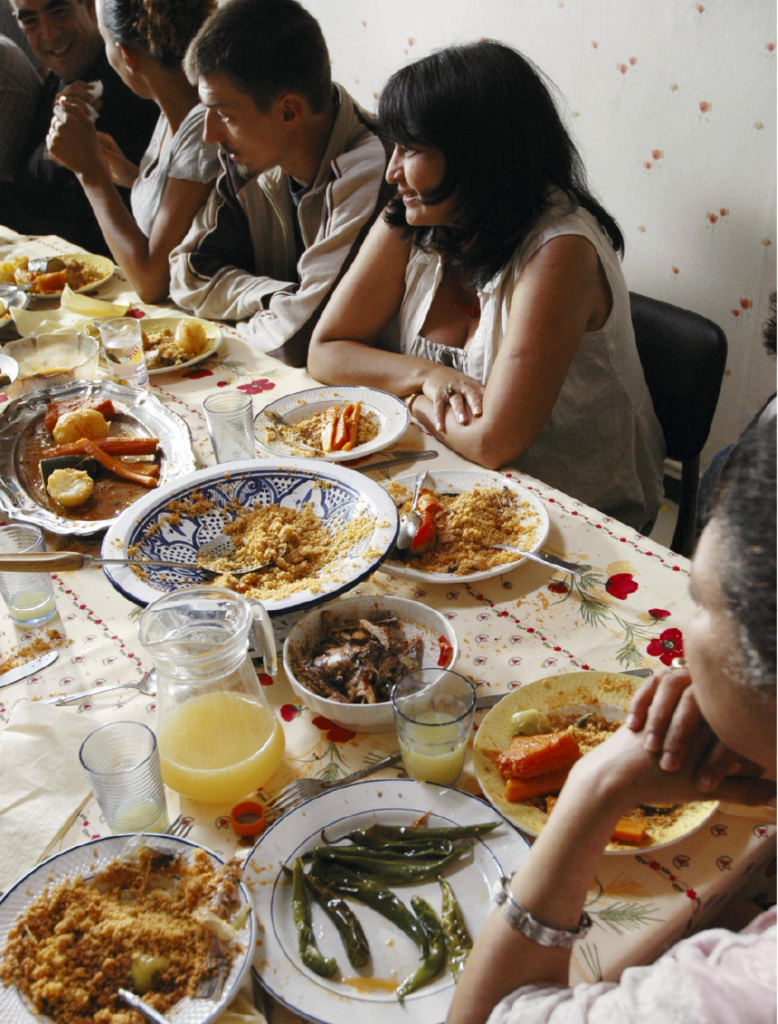 Anyway what triggered me to write this post was a visit to a magnificent Moroccan restaurant here in Brussels. It's called Kasbah. It's tucked away in a nice part of town, near St Géry and as soon as you step inside you feel warm and welcome. I can't think of a better way to have spent a winter evening than enjoying deliciously fragrant food served in earthenware by charming waiting staff. The menu consisted largely of tagines and couscous dishes. There was Moroccan wine on offer too, I tried a Moroccan Chardonnay. There were green and black olives served on arrival. Delicious olives! I generally have a strong dislike for olives but these ones were addictive. They were followed by a Moroccan salad to start, herby with cucumber, tomato and a beautiful dressing, served with a warm flatbread.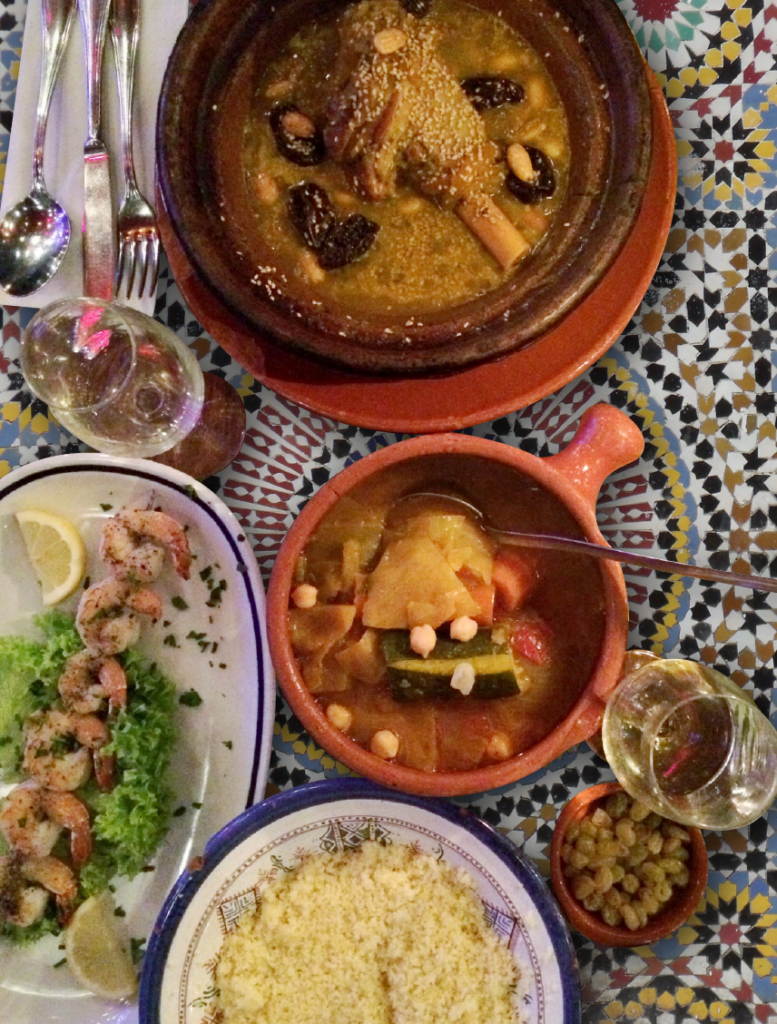 My main was couscous with grilled prawn skewers. It was presented in a series of vessels. A bowl of couscous, a pot of vegetables in sauce, a little bowl of the most delicious golden raisins I've ever tasted and of course, the skewer of succulent grilled prawns on a bed of lettuce. The portions were very generous and so there was no room for dessert but we ordered the mint tea for the novelty of seeing it poured into glasses, boiling hot, from an impressive height by our skilled waiter! Apparently 'the pouring of tea from a teapot with a long curved spout is done from a height of at least twelve inches, causing foam to form on the surface of the tea. If there is no foam, the tea is not ready to be served. In parts of Morocco the method of pouring and returning the tea to the pot is used to mix the ingredients and is part of the ritual.'
I'd love to visit Morocco sometime as it's a part of the world that I associate with an incredibly rich culinary tradition. For now though, perhaps I can teach myself how to make a decent couscous dish, or maybe some sort of vegetarian tagine…