Last weekend, my housemate Liam who is half Korean initiated a Korean-themed dinner party. Dumpling-making and K-pop ensued! A few of my friends visited an Asian supermarket to pick up ingredients and then we got busy in the kitchen preparing three korean dishes, most notably, these gorgeous vegan dumplings!
This dumpling recipe is adapted from a Maangchi recipe, made for a Korean dinner party we hosted last weekend. We adapted the recipe (omitting the meat) to make it vegan. Maangchi, hailed by the New York Times as 'Youtube's Korean Julia Child', began making Korean cooking videos and became something of a sensation! Having tasted a couple of the recipes from her book 'Real Korean Cooking' I can see why.
Ingredients
For the Dipping Sauce:

2 tbsp soy sauce

1 tbsp white vinegar

1 tsp sugar

1 green Korean chili pepper, deseeded & chopped

1/4 cup onion, chopped

For the Filling:

1 tsp minced peeled ginger

4 garlic cloves, minced

1 tbsp soy sauce

1 tsp black pepper

1 tbsp + 1 tsp toasted sesame oil

2 cups mung bean sprouts

1 small courgette, cut into thin matchsticks

salt

1 cup chopped scallions

2.5 tsp vegetable/rapeseed oil

1 cup medium-soft tofu, chopped small

1 cup onion, chopped

Dumplings:

flour

1 pack dumpling skins (50 pieces)

vegetable oil (for frying)
Instructions
1
Combine the ginger, garlic, soy sauce, 1/2 tsp pepper and 2 tsp of the sesame oil in a bowl.
2
Put bean sprouts in a medium saucepan, add 1/2 cup water, cover and cook over medium-high heat for 5 minutes. Drain.
3
Mix the courgette with 1/2 tsp salt in a bowl and let stand for 5 minutes, then pat dry with a paper towel.
4
Wrap tofu in a paper towel and squeeze out excess water.
5
Heat a frying pan over a medium-high heat. Add 1 tsp of the vegetable oil and the courgette and cooking, stirring softened, about 1 minute. Scrape into a large bowl.
6
Combine the chopped onion with 1/2 tsp salt in a bowl.
7
Heat frying pan again and add remaining 1 tsp vegetable oil, add onion and cook until translucent. Add to bowl with courgette.
8
Add bean sprouts, scallions, and tofu to the courgette and onion. Add 1 tsp salt, 1/2 tsp pepper and the remaining 2 tsp sesame oil and mix well.
10
Set out a small bowl of water.
11
Sprinkle flour over a baking sheet.
12
Take one dumpling skin, dip finger into water and wet the edges of the skin so that it will seal easily.
13
Spoon a tablespoon of the filling into the centre and fold the skin over, pinching the edges to seal.
14
Heat a large pan over medium-high heat. Add 2-3 tbsp vegetable oil. Add dumplings and cook for 2-3 minutes on each side, or until golden brown.
Dumplings look far more complicated to make than they actually are. I didn't fancy attempting them until my housemates bought the ingredients and called out the recipe! There's something therapeutic, we found, about assembling dumpling after dumpling. You get a rhythm going and you just don't want to stop! 97 dumplings later, we ran out of ingredients though and had to stop. We ate as many as we could that night and then froze the rest.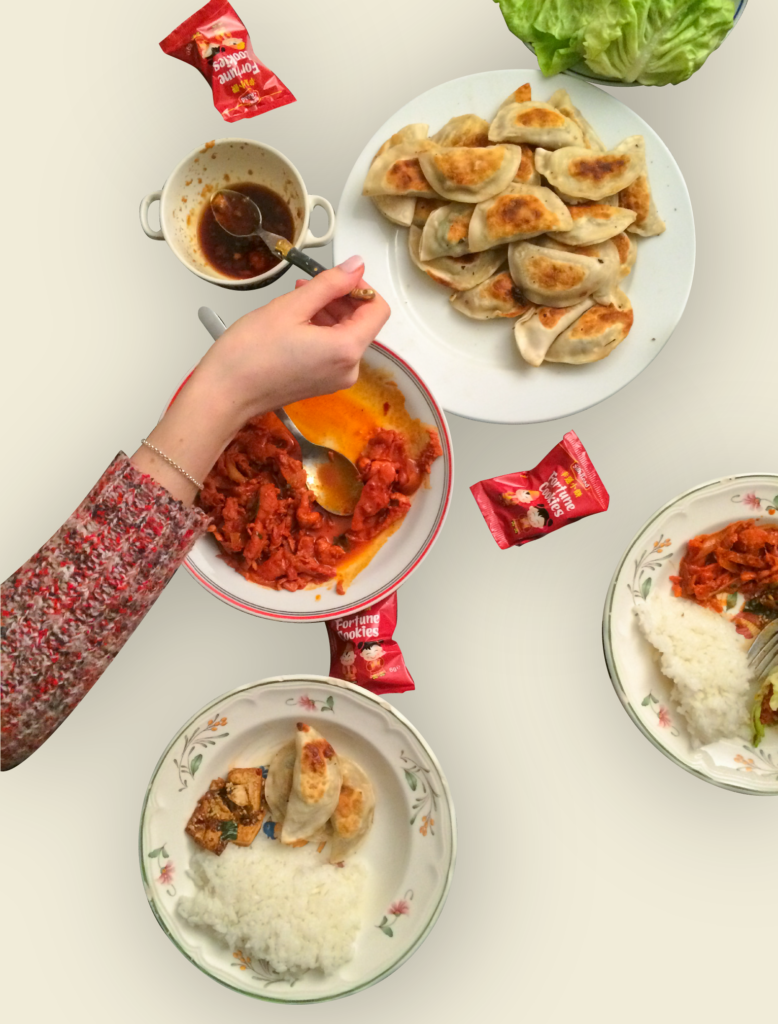 For the dinner party we also made Maangchi's 'Spicy Stir-Fried Pork' and her 'Panfried Tofu with Spicy Seasoning Sauce' from the same book. Typically Korean food is quite spicy so we tried to be as authentic as possible! We did, however, deseed the hot green chilies as we weren't feeling that brave! The dinner party was a success, we all thoroughly enjoyed the food and followed the savoury food with some Korean sweets and biscuits.