This weekend we had two friends over to visit. Waffles and coffee were in order! We took a walk to Galeries Royales Saint-Hubert which is a glazed shopping arcade in the city. The ceiling is so high and incredible to look at—entirely made of glass. We found a nice café called Mokafé for brunch and ordered waffles and coffees.
The elderly woman sitting next to us (a local lady I assume) kindly told us to enjoy our sweets after we made a scene taking photos and snapchats of ourselves with our food before picking up a fork! I'm pretty sure she proceeded to eavesdrop for the rest of the time we were there and we thought it would be such a lovely way to while away a morning as an elderly person, to sit over a coffee in Mokafé and watch the world drift by.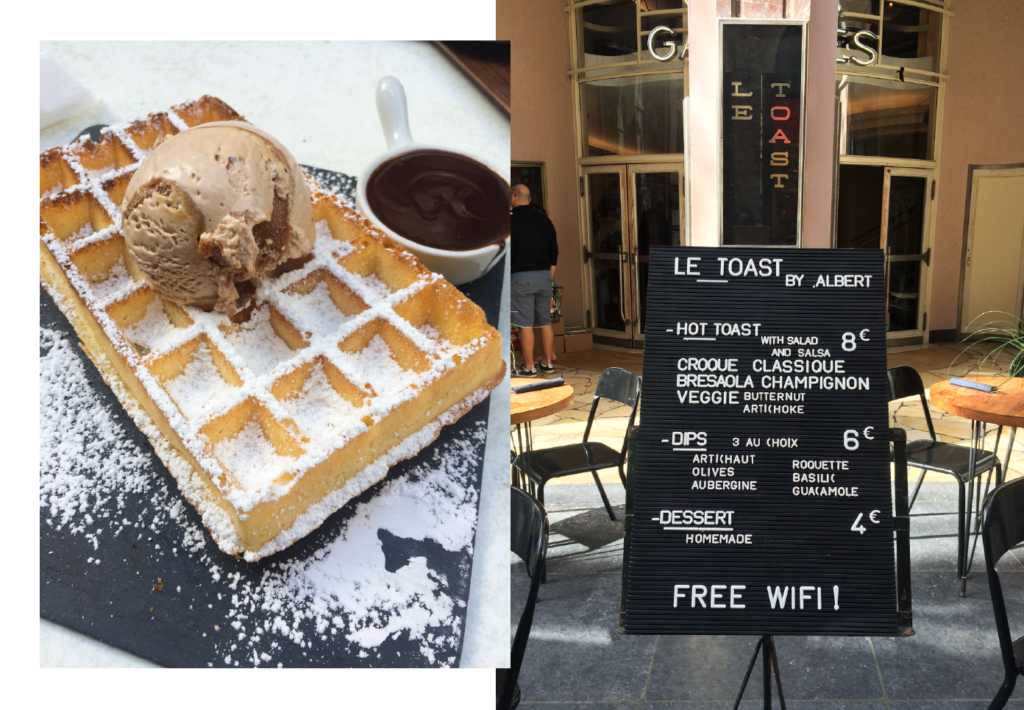 That evening we ate in an Italian restaurant called Prego. It was gorgeous! We had incredible pizza and pasta. After we ordered our food, my friend Karen went to the bathroom and we were having a very animated conversation about teenage discos (as you do when in the company of EU professionals and doctors). About ten minutes later, a distressed Karen arrived back to the table and announced that she had been locked in the bathroom. "Did you not notice I was gone for ages?!" No we didn't, we were too busy reliving our teens! She couldn't believe we hadn't noticed her extended absence and recounted how she had been unable to get out of the bathroom and had had to call out for help. A man came to her rescue hearing her pleas, "ehhhh la porte…" Turns out she had sent me a text saying "I'm stuck in the bathroom!!!" but there was no signal down there. So every time someone went to the bathroom during the meal, Karen would warn "don't go into the first cubicle!"
The food was wonderful and very reasonably-priced I thought. Brussels is unlike Dublin in that there isn't a culture of early bird menus and deals for eating out so it can be quite pricey I'm told. Just remember not to use the first cubicle if you visit Prego!