On arriving back to Dublin recently, my parents met me from the airport and asked where I would like to go for brunch. "Emm there's a place in Rathmines…" They laughed about how had it been them living abroad for the past ten months, they probably wouldn't have a clue where to go for brunch the moment they landed back in Dublin! I make an effort to follow the Dublin food scene, which isn't difficult with social media.
So Fia it was! A place I've been wanting to try since it opened just over a year ago. We walk in. There's peace. A waiter seats us, brings menus and takes our drink orders. The menu is printed on what looks like recycled paper, brown with a texture. It's a small menu but everything on it sounds delicious, making the choice difficult. Then the waiter explains that the specials for the day are currently being written on the board, which complicates things further!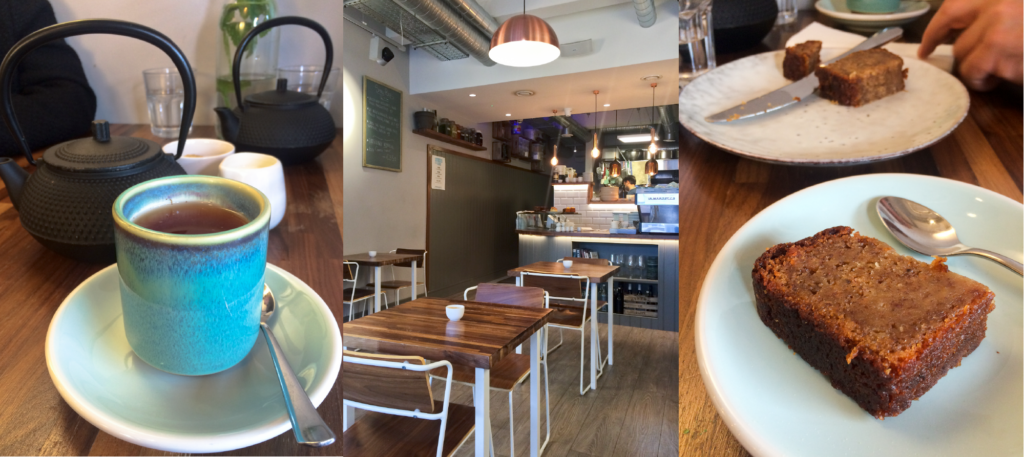 The tea arrives in heavy Japanese tea pots, and ceramic teacups without handles. In Japan tea is drunk from cups without handles so that the heat energy from the tea is transferred to the hands of the receiver, rather than lost to the air (as it would be with the use of a handle).
I order one of their specials; a small plate of house smoked trout, samphire, lemon mayo & radish. It is served with some divine toasted sourdough. Really really good sourdough with big yeasty holes in it. My parents have peach on toast (Grilled White Peaches, Calabrian Nduja, Macroom Buffalo Ricotta, Dukkah) and scrambled eggs with greens (ordered with both optional additions of black pudding and chorizo). The peach is beautiful. It seems there is an emphasis on using fresh, seasonal and local ingredients.
It's great to see Irish products celebrated in such a way. Attention is paid to detail across every aspect of the dining experience. The music playing was beautiful and relaxing, yet cool and contemporary. The ceramic plate on which my trout is served has a slightly homemade appearance and comes from Copenhagen. The waiter was kind and knowledgable and happy to chat. When the time came for dessert, the staff recommended a peanut butter & banana cake. Little did they know peanut butter is one of my favourite foods in the world. The cake was moist and dense, I loved it.

Given the high quality of the ingredients and the originality of the menu, I thought that the prices were very competitive. I could go to numerous Dublin establishments and pay at least €10 for a run-of-the-mill eggs benedict brunch. Why would I? There's so much more deliciousness and inspiration to be found in magical cafes like Fia. Perhaps that shouldn't be plural in fact, I think Fia may be one of a kind… There's no gimmicks or pretentiousness, just stunning plates for vegetarians, pescatarians and meat-eaters alike.
If you're in Dublin and you care about food, Fia is a must-visit, they have their finger on the pulse of the food scene. I'd go everyday if I could.